The Immersive Learning Lab is now open for a limited time trial.
It thrills us to announce the trial of a new 'Immersive Learning Lab'.
Immersive technologies are constantly evolving, and all signs indicate they are here to stay. The question is: how can we apply these in a healthcare training and education setting? Let's work it out together!
We have created a dedicated space for the testing and evaluation of use cases for category-defining consumer hardware and software within the immersive and social environment. The trial will run for an initial 3 months and all are welcome to participate. We will collect comprehensive feedback from participants through evaluations that will inform the usefulness of integrating a space of this type permanently.
What is an Immersive Learning Lab?
Immersive Learning combines VR/AR, learning science, data, and design.
As virtual reality (VR) and augmented reality (AR) are fast becoming well-recognised platforms for learning, the demand to create dedicated spaces (immersive learning labs) is high.
These spaces are designed to be areas where the user is safe and able to engage themselves fully in a scenario–to play, explore and learn. We now have an allocated room for this purpose.
Devices and apps
The Immersive Learning Lab will provide access to a variety of devices. See the list of devices and apps available.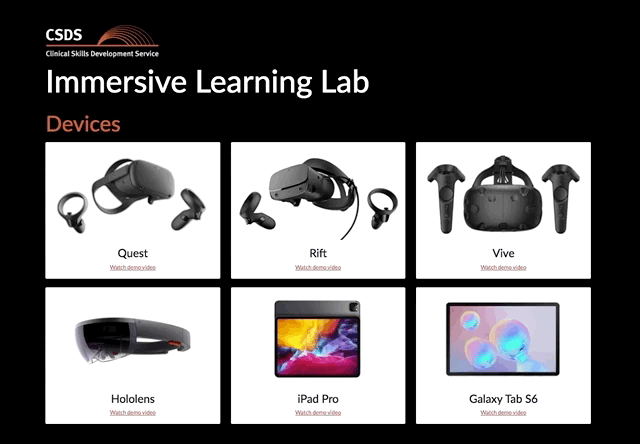 What can you expect as a participant?
To optimise your experience in the Immersive Learning Lab, CSDS Faculty will meet you on arrival. They will walk you through an orientation to the room, the software and hardware available.
The CSDS team has a diverse group of educators, problem solvers and inventors with a proven history of investigating and implementing improvement changes. The Immersive Learning Lab is a place for the CSDS team and our collaborators to investigate ways to transform how we deliver everyday healthcare experiences with the potential to improve the way we work and provide care.
Do you have a project in mind? The space can be used to test and validate ideas, or to simply satisfy your curiosity about immersive technology and it's offerings.
Book in now to use the Lab
Are you interested in exploring the Immersive Learning Lab? Please make a booking through the CSDS Booking Form.
Do you have a project for the Immersive Learning Lab? Please submit through the CSDS Idea Form.