Celebrating 15 years of simulation-based education and training
On September 23, 2019, the Clinical Skills Development Service turned 15. We have evolved considerably over the last 15 years, delivering simulation-based education and training to Queensland Health and its affiliates. Through the years, our service has grown to become one of the largest healthcare simulation services in the world. This year brought with it a vision for our future – a greater focus on providing our clinical staff with what they need to deliver evidence-based, safe healthcare.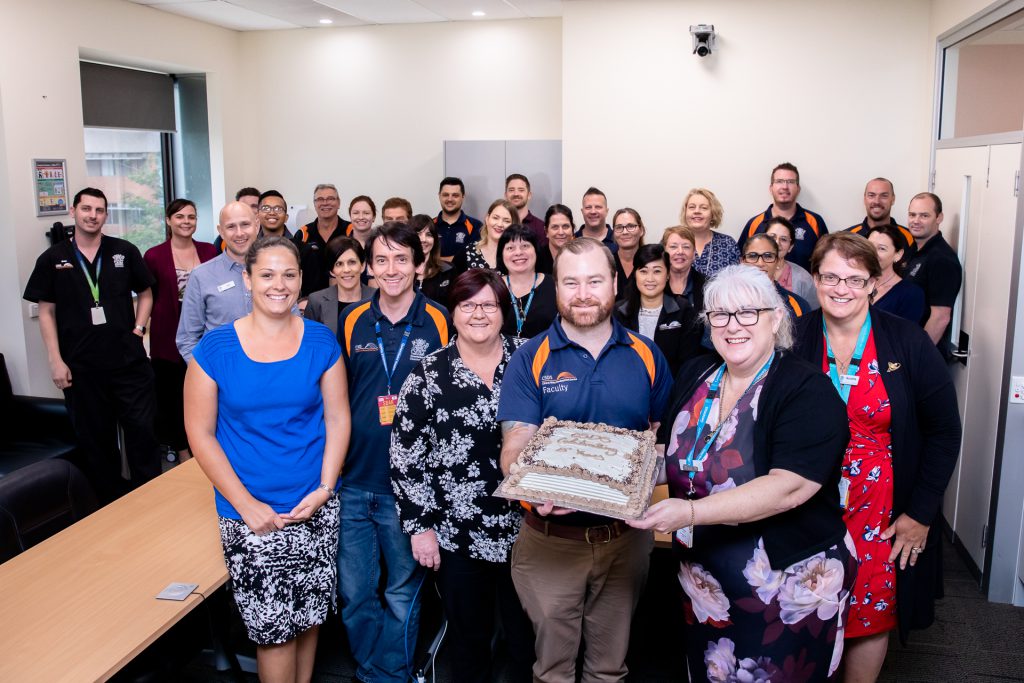 The inception of CSDS
The concept of a large simulation-based educational facility in Queensland was born back in the early 2000s. A group of clinicians from the Royal Brisbane Women's Hospital (RBWH) had an opportunity to visit and experience a world class simulation facility overseas. The group discovered that being able to perform clinical training in a simulated environment was not only a richer, more immersive form of training, but it also posed no risk to patients and could lead to greater patient safety.
A submission was soon made to the then Director-General Dr Rob Stable to fund, what was described as a "rapid learning skills lab". The Director-General was so taken with the potential of the idea, he chose to expand it to be not only an RBWH facility but a state-wide facility.
It was in 2004 that the Skills Development Centre (SDC) finally came to life at the RBWH campus, Herston. The SDC was officially opened on 23 September 2004 by the premier at the time, the Honorable Peter Beattie MP and the Minister for Health, the Honorable Gordon Nuttal MP. The Centre was up and ready to go, eager to face the challenges ahead.
In 2011, after going through some departmental changes, and as we engaged with more clinical sites across Queensland, our name needed a change to reflect our scope. It was then that we took on the new title of the Clinical Skills Development Service (CSDS).
From little things big things grow, the CSDS Pocket Centre Network
In 2006, just two short years after opening our doors, we launched the Pocket Centre Network (PCN). With a state the size of Queensland, we realised the constraints of traveling to Brisbane for our rural and remote workforce and a plan was established for the PCN model. The model focused on growing simulation delivery expertise and providing clinical training equipment to support the delivery of clinical training, at the right time, right place and for the right people.
By 2010 we had 18 pocket sites, with 1772 pieces of equipment, including 127 manikins, being moved around the state. Since that time, we have expanded the PCN to reach all 16 Hospital and Health Services across Queensland, with over 140 Pockets Centres currently operational, reaching as far as Thursday Island. Our network is continually growing with more Pocket Centres joining the CSDS family all the time.
The success of the Pocket Centre Network and its expansion meant that we had challenges meeting the equipment needs of the sites. Our team is always looking to the market for the latest advancements in healthcare simulation equipment, testing and evaluating best fit-for-purpose items. In this time, we have increased our SimShop to 3330 simulators, including 259 full-body manikins. This vital equipment is used to deliver educational programs around the state, allowing hospitals to train staff in their own facilities. In the last 3 years (2016-2019) we have had approximately 5000 equipment loans for clinical education delivery. 
F
rom the past looking towards the future
Looking back through the years and seeing how far we have come is a reminder of our success stories, including the growth and diversity of our course offerings. We now have more than 40 face-to-face, blended and online courses currently available, covering a multitude of areas. This includes some of our longest-running courses, in action since the very beginning – Physiotherapy & Critical Care Management (PacCMan) and Effective Management of Anaesthetic Crises (EMAC).
Understanding that our course diversity is a key area of need, we have begun adopting other interesting areas to complement the clinical training. Looking at knowledge translation we developed our Implementation Science course and a host of online courses like Cognitive Bias, Co-Design and Mind Games, all free of charge for Queensland Health staff. We were also excited to start a new partnership this year, with the new Queensland Digital Academy, helping to support the rollout of electronic medical records for Metro North Hospital and Health Service (MNHHS) and the state. 
Focusing on the links with clinical networks, involving our consumers on the journey and co-designing our courses is essential to addressing statewide needs. Soon we will be launching new bespoke educational programs. Allowing clinical staff to identify areas of need in their education, choosing the training pathway that suits their needs. Starting with our Maternity Education Program which will provide statewide education and resources for maternity staff, accessible to all Queensland Health staff at no cost.
Although we have always been a champion for innovation, in the last few years it has become a key focus area for us. In 2018 we launched our Innovation Hub, a specially designed space to allow for collaboration and dynamic problem solving that helps launch ideas into action. This year we also established the Healthcare Innovation Committee (HIC) in conjunction with MNHHS to support the successful delivery of healthcare innovation projects, maximising benefits and providing cross-functional leadership. The HIC also endorses rapid prototyping and evaluation of project ideas put forward, assigning them to relevant teams within Queensland Health to implement.
The evolution of CSDS
We have seen a lot of change over the 15 years, our name, the courses, the faces, and so much more, but one thing that has remained the core of who we are is our passion for improving patient safety through simulation education and training and innovation. 
We are proud to have supported the training and education of thousands of clinicians, students, Queensland Health staff and other healthcare providers. We are passionate about our contributions and look forward to another 15 years of growth with our community.
Moving into the future, it is safe to say that we are not afraid of change and the challenges that Queensland Health will face in the future. We will continue to co-design and collaborate with you, striving to find solutions to complex healthcare problems. We are embracing new technologies, seeking, evaluating and applying them in the best way possible. We can't wait to see what the future holds for us, and all of Queensland Health.