CSDS team's work was featured in the The Australian Nursing & Midwifery Journal (ANMJ). They shared three articles in the October – December 2023 edition. In this blog post we are sharing the full article on the development of simulation-based maternity education in Queensland, written by Dr Lisa Peberdy, Dr Mia McLanders, Ms Megan Barker and Dr Lauren Kearney.
BACKGROUND
Interprofessional maternity emergency training is associated with improvements in perinatal outcomes and has demonstrated improvements in teamwork, knowledge, and clinical skills. The Maternity Emergency Program (MEP) is delivered by the Clinical Skills Development Service (CSDS), Metro North Health Service, to interprofessional maternity staff to enhance a team approach to maternity emergencies. MEP courses are face-to-face simulation-based workshops developed in response to different levels of expertise and experience in maternity settings.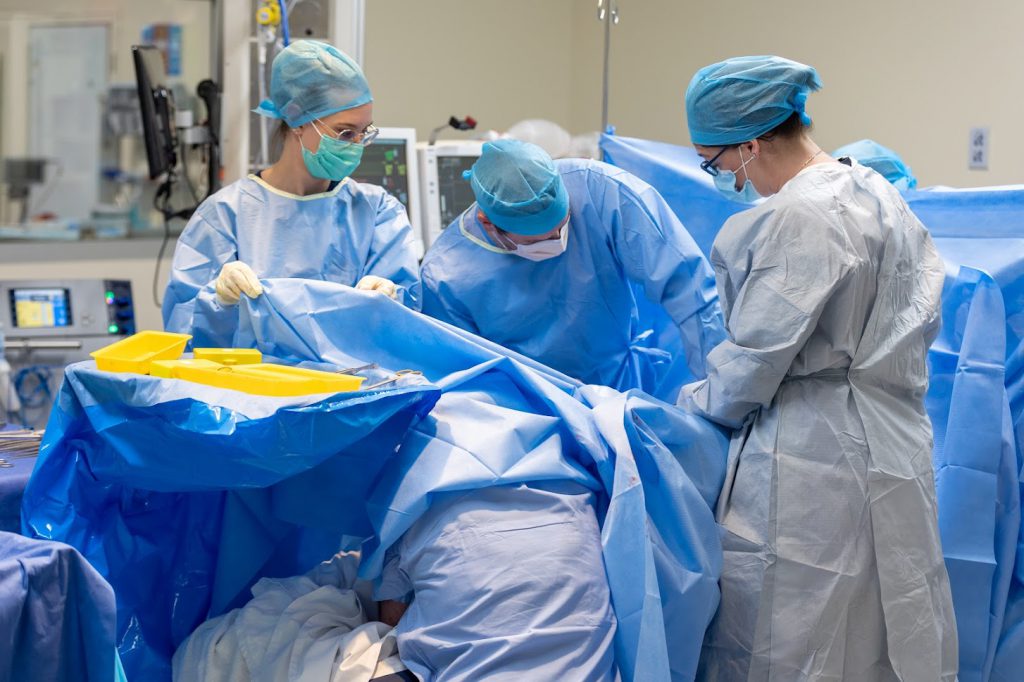 FOUNDATION COURSE DEVELOPMENT
MEP was developed from an identified gap whereby simulation-based maternity education programs catered to experienced staff, not novices. Staff feedback and market scans identified a 'soft introduction to maternity simulation' was required for clinicians new to maternity care, rotating back to the birthing environment or employed in services with low exposure to birthing, such as graduate midwives, junior medical officers and return to practice midwives.
The MEP Foundation Course (MEP-FC) was implemented following an iterative approach, including topic identification from existing training programs, subject matter expert input and review, and pilot program testing. MEP-FC is case-based, following a woman's labour, birth and postnatal period with the management of a fixed set of complications, addressed through interactive case discussion and management, skills stations with application into a simulated environment, and supported debriefing to enable learners to improve knowledge of clinical practice. Results from participant questionnaires from the simulation-based workshops revealed that 74% would change their clinical practice, and 75% would recommend the program to colleagues.
EXPANSION INTO MORE PACKAGES
In response to the MEP-FC success and following consultation with maternity staff, MEP Advanced (MEP-ADV) was developed for staff with extensive experience in birthing care working in maternity services. Other maternity courses were available. However, these varied from site to site and feedback called for increased simulation practice. As a bespoke course, MEP-ADV facilitators choose different case-based scenarios depending on participant-identified learning needs for immersive simulations, skill stations and debriefing exercises.
Post-course questionnaires revealed 87% found the hands-on activities supported their learning. To enable MEP to be conducted state-wide, MEP 'On the Road' (MEP-OTR) facilitator training workshops were developed to deliver 'immersive' simulation opportunities in their own workplace environment for the training, which is highly valuable to support clinicians in other Health and Hospital Services (HHS) to ensure consistency of MEP to meet accreditation standards.
LICENSING
Both MEP-FC and MEP-ADV are accredited by the Australian College of Midwives (ACM) and Royal Australian and New Zealand College of Obstetricians and Gynaecologists (RANZCOG) and meet Queensland Health Clinical Services Capability Framework's (CSCF) mandatory maternity emergency education and training requirements. MEP is now licenced in 9 HHS' across Queensland.
FUTURE DIRECTIONS
The current accredited MEP-FC must be run as structured to cover set scenarios. Therefore, the interdisciplinary focus across obstetrics and midwifery does not cater to non-maternity staff. In many rural facilities Emergency Department and ward staff assist with maternity emergency management. Future priorities for MEP-FC are to enable it to be bespoke and inclusive of non-maternity care providers or alternately develop a separate course for that demographic.
For more information, please visit Queensland Maternity Education.
Do you have ideas or requests for improving healthcare through training, collaboration and innovation? Reach out to the CSDS team via the CSDS Idea and Request Form.