Imagine travelling 2,190 km on a one-way trip by road transport, aircraft, barge and truck to get to your destination. Well, that is the process that occurs when Clinical Skills Development Service (CSDS) equipment travels to Thursday Island and other remote areas of Far North Queensland.
The Torres and Cape Hospital and Health Service (TCHHS) geographic region spans from Laura to the Outer Islands of the Torres Strait.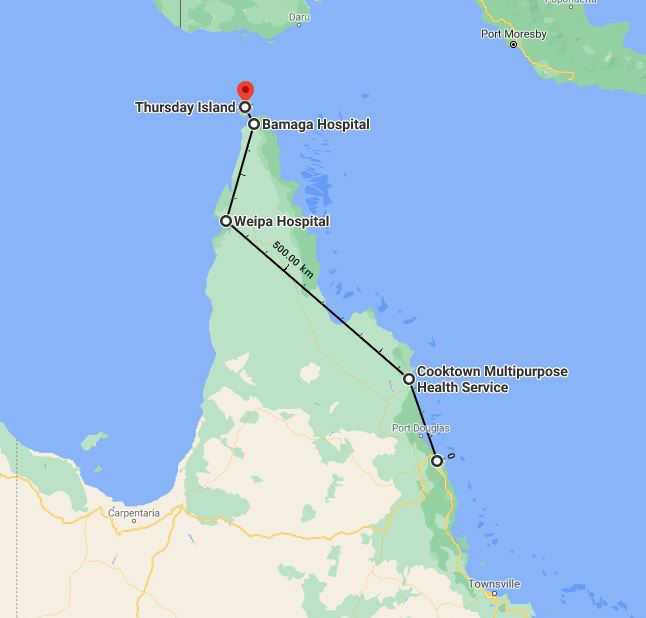 Clinicians who work across this fast landscape are truly some of the most remote and isolated in the true context. Accessing training is often challenging and requires significant amounts of travel.
For many years, the Clinical Skills Development Service has continued to help provide clinical staff with not only simulation equipment for the 5 Simulation Pockets in TCHHS but also high-quality faculty training to enable the Nursing and Midwifery (N&M) Education team to deliver multiple courses to the clinicians within their remote facility. Completing the partnership with ongoing support provided by CSDS staff relating to equipment and online booking issues.
Without access to such an invaluable resource, the N&M Education team would not have the resources to provide education of such a high standard and staff working in isolation would be less prepared for the challenges of remote and isolated nursing and midwifery practice.
Simulation training creates a safe learning environment, where making mistakes can be a valuable part of the learning process without putting patients at risk.
TCHHS uses Simulation training to enable staff to practice skills, develop relationships with team members using a multidisciplinary approach, and develop situational awareness, debriefing and critical thinking skills. Importantly it allows learners of all types to come together to practice and learn by using a "hands-on" approach to enhance skills and knowledge.
The COVID-19 pandemic has further affected our ability to deliver training. Torres, NPA and Cape York communities were in biosecurity lockdown to prevent the spread of COVID-19 to our Aboriginal and Torres Strait Islander communities. Having the CSDS supplied mannikins and equipment allowed the education team to deliver education to medical and nursing teams on how to best manage COVID-19 patients, including the delivery of ventilatory support such as SSIP (Standardised Safe Intubation Package) and RSI (Rapid Sequence Induction) simulations, and care of the isolated patient.
COVID-19 has challenged the way we go about our day-to-day business, compelling us to consider alternative options for the delivery of vital training. The Torres and Cape N&M Education team are diversifying and trialling the use of videoconferencing enabling us to reach more remote areas. Recently, the education team remotely oversaw a demonstration of Basic Life Support in Pormpuraaw using simulation equipment.
Simulation technology advancements are always occurring and in these exciting times, the rural and remote locations will be the winners.
Written By Rebecca Buldoo, Registered Nurse / Nurse Educator at Cooktown Hospital.