CSDS recently had a significant presence at the 2013 annual SimHealth Conference held at the Brisbane Convention centre over the period 16 – 19 September 2013 and hosted by Simulation Australia. The conference was a national forum for simulation in Australia, bringing together international and local experts in simulation education, research and development, human factors, system design and quality improvement.
Sponsorship and workshops
The CSDS presence at this years' conference included providing conference sponsorship and hosting the pre-conference workshops at the Skills Development Centre. Delegates from around the world were impressed by the skills and service provided by CSDS coupled with the design and equipment utilised in the Centre on a daily basis.
Awards and recognition
CSDS submitted their Advanced Life Support online branching scenarios in the SimHealth Serious Game Challenge and Showcase competition. This competition was aimed at promoting the considerable and innovative development talent in Australia and New Zealand, as well as representing interactive serious game solutions nationally and internationally.
The CSDS entry was exhibited during the three-day conference and won the Serious Games – People's Choice Award. Congratulations go to the CSDS eLearning Team – Stephen Francis, Caitlin Major, Edwin Martinez, Richard Campbell and Stephen Poyser and the CSDS Simulation Team – Louise Nicholls, Tracey McLean, Belinda Healy, Davin Arthur, Colin King, Celia Noble, Sandra Thornton, Clinton Henderson and Luke Wainwright.
Congratulations also go to CSDS for winning the Research Award for Best Education Abstract with their abstract on Simulation Coordinator Training: a standardised approach to training the technical aspects of simulation delivery. Authors of this abstract were Louise Nicholls, Lisa McCoy, Davin Arthur and Dylan Campher.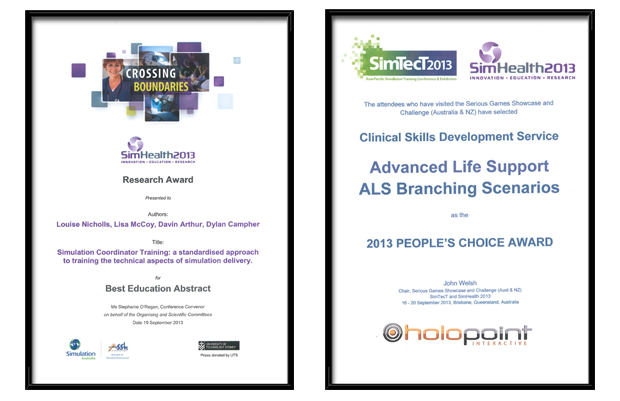 CSDS's, Dylan Campher, Director of Simulation, was nominated as a finalist for a "Simulation Achievement Award". This prestigious award is for significant contribution to the development of modelling and simulation science, technology, policy, standards and/or industry in Australia.
The 2013 SimHealth Conference was a successful opportunity for CSDS to experience such significant exposure to world renowned simulation leaders. It is anticipated that that the networks and education gained through this conference will further enhance the development and delivery of healthcare simulation within Queensland.